$425,000 in Renovation Funding for the Callander Legion
November 14, 2023
CALLANDER – MPP Fedeli joined the Callander Legion Branch 445 to recognize two Ontario Trillium Foundation (OTF) investments and present the legion with certificates of congratulations. This funding has helped Branch 445 modernize their building and sports field to continue providing programs and events in Callander for years to come.
"2022 marked the 75th anniversary of the Royal Canadian Legion, Branch 445 in Callander. On behalf of the provincial government, we would like to recognize all the hard work the volunteers have put forward over the years to keep this facility running for veterans, their families and the community," said MPP Vic Fedeli. "Thank you, Branch 445, for always being a welcoming environment and for dedicating so much time and effort to all the programs the Legion has to offer."
Previously announced funding breakdown is as follows:
$310,200 through OTF's Community Building Fund to improving the energy efficiency and accessibility of the building and upgrading the baseball fields, lighting and dug-outs.
$117,300 through OTF's Community Resilient Fund to help offset the impacts of the COVID-19 pandemic so they can deliver the best service possible for the community.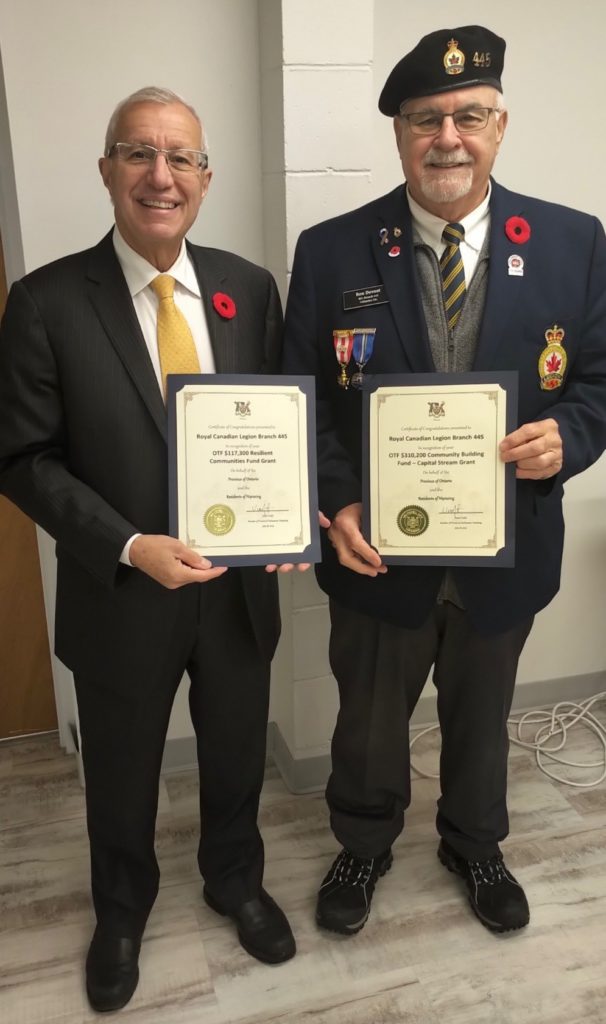 "The impact of these Ontario Trillium Foundation grants cannot be overstated. These grants from the Ontario Trillium Foundation assisted the Callander Legion in continuing to support our Veterans and their families with significant repairs and renovations of our facility. We are extremely thankful to Minister Fedeli and the Trillium Foundation for their continued support of our Legion and providing this incredible opportunity to extend the life of our building and services exponentially." – Ron Devost, Callander Legion Branch 445.
Additional information
---