Additional $3.6 Million for the North Bay Regional Health Centre
March 31, 2023
NORTH BAY – Vic Fedeli, MPP for Nipissing announced that the Ontario government is investing over $3,600,000 in funding for the North Bay Regional Hospital for the 2022-2023 year to reduce wait times, improve safety, increase services, and address the increase of operating costs.
"The North Bay Regional Health Centre is a bedrock of our community, providing critical services to those who need it most," said MPP Vic Fedeli. "Our government will continue to make investments in healthcare, so everyone has access to quality care that is close to home."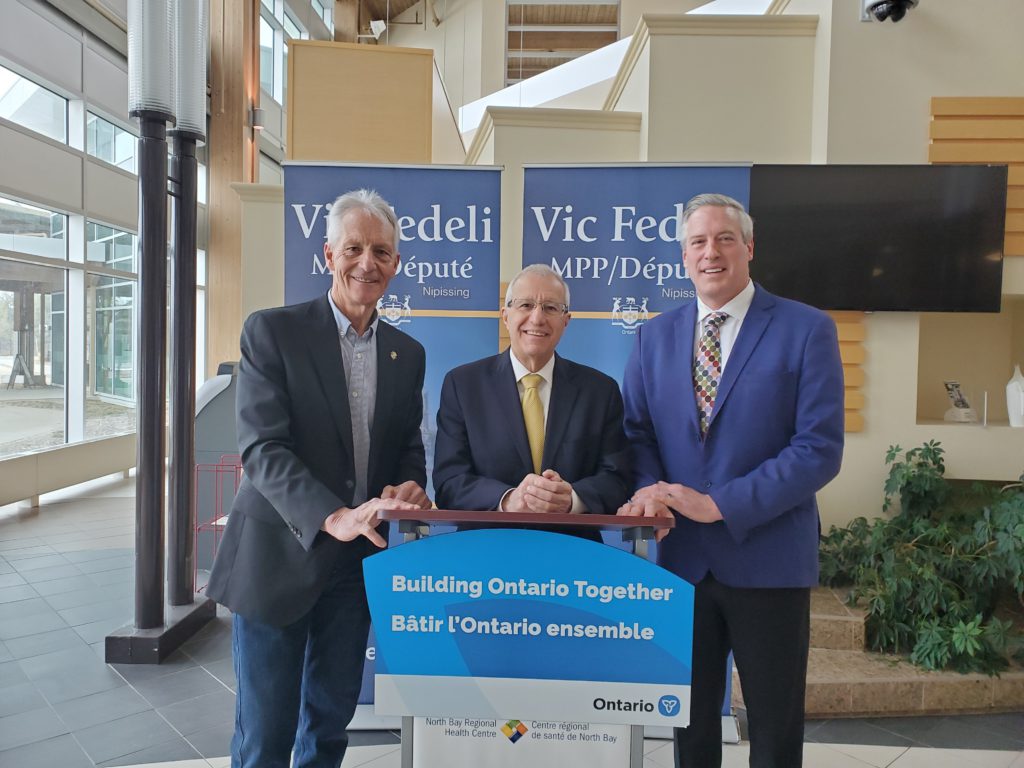 NBRHC President and CEO Paul Heinrich says the funding announced today for MRI and CT services will increase the hospital's diagnostic capacity. "This compliments the surgical recovery funding, providing our patients even faster access to the surgeries they need, while also lowering our already low wait times. We also welcome the one-time funding for our forensic mental health and dual diagnosis programs—two key components of our tertiary mental health services."
Investments includes the following:
$2,784,000 to improve supports for people with complex mental health issues
Funding for Forensic Hospital Security Enhancement – This investment supports initiatives aimed at improving staff/patient safety, including short term staffing, training, software and equipment designed to enhance the safety and security of forensic units.
Funding for Complex Mental Health and Developmental Disability (Alternative Levels of Care) – This investment allows inpatient Dual Diagnosis Programs across the province to enhance services, supports and equipment for this complex community and to meet the needs of treatment and behavioural plans.
This one-time funding will ensure that the NBRHC will have the critical supplies and equipment required for the safe and timely patient care of people with complex mental health issues.
$389,000 to Support Surgical Recovery initiatives
This one-time funding for the 2022-23 year will support the hospital with its efforts to increase surgical output and reduce system wait times to address the needs of Ontarians who have had care impacted by the COVID-19 pandemic.
$327,500 for MRI/CT Operation Funding
Supporting increased MRI/CT operating capacity in Ontario will help to reduce wait times and increase access for patients needing diagnostic imaging. In addition, this investment will provide better, more equitable access for patients living in small and rural communities and allow them to receive necessary and critical diagnostic imaging closer to home.
The province is providing $46.4 million to support an additional 183,000 operational funding hours in 2022-23 for MRI and CT machines at 69 hospitals across the province. This funding builds off previous investments and is being provided to all hospitals that have identified additional MRI/CT diagnostic capacity.
$150,000 EHS Base Funding Increase
The North Bay Central Ambulance Communications Centre will receive up to $119,267 in additional base funding, and up to $30,657 in one-time funding for the 2022-23 funding year. This will bring the total maximum funding available under the Agreement for the 2022-23 funding year up to $2,945,996 to support an increase in operating costs.
ADDITIONAL RESOURCES
Read the 2023 Budget: Building a Strong Ontario for additional information on the expansion of the program to allow pharmacists to prescribe over-the-counter medication for more common ailments and the additional $425 million over three years to connect more people to mental health and addictions services
---