Over $1.5 Million to Support Intern Positions
December 19, 2022
Funding supports career and skills development in Nipissing
NORTH BAY – Vic Fedeli, MPP for Nipissing announced that the Ontario government is providing $1,582,332 through the Northern Ontario Heritage Fund Corporation (NOHFC) for 53 job placement opportunities in Nipissing. This investment will help strengthen and develop Northern Ontario's workforce.
"By providing financial assistance for businesses to hire interns, our government is helping strengthen Nipissing's workforce," said MPP Vic Fedeli. "Through the province's Open for Business approach, we are making Northern Ontario more attractive to investors, entrepreneurs and job creators."
Some of the NOHFC internship investments include:
$67,292 for Northland Glass & Metal to hire two Project Manager Interns.
$64,762 for Drillco Mining and Exploration to hire a Mechanical Engineer Intern and an Inventory Manager and Purchasing Agent Intern.
$63,471 for One Red Maple to hire a Business Development Intern and a Junior Software Developer Intern. For every download of the One Red Maple app or extension through to the end of the holidays, One Red Maple will donate $1 to the North Bay Santa Fund.
$54,941 for Critchley Hill Architecture to hire two Architect Interns.
$20,649 for Jackman's to hire a Florist Intern.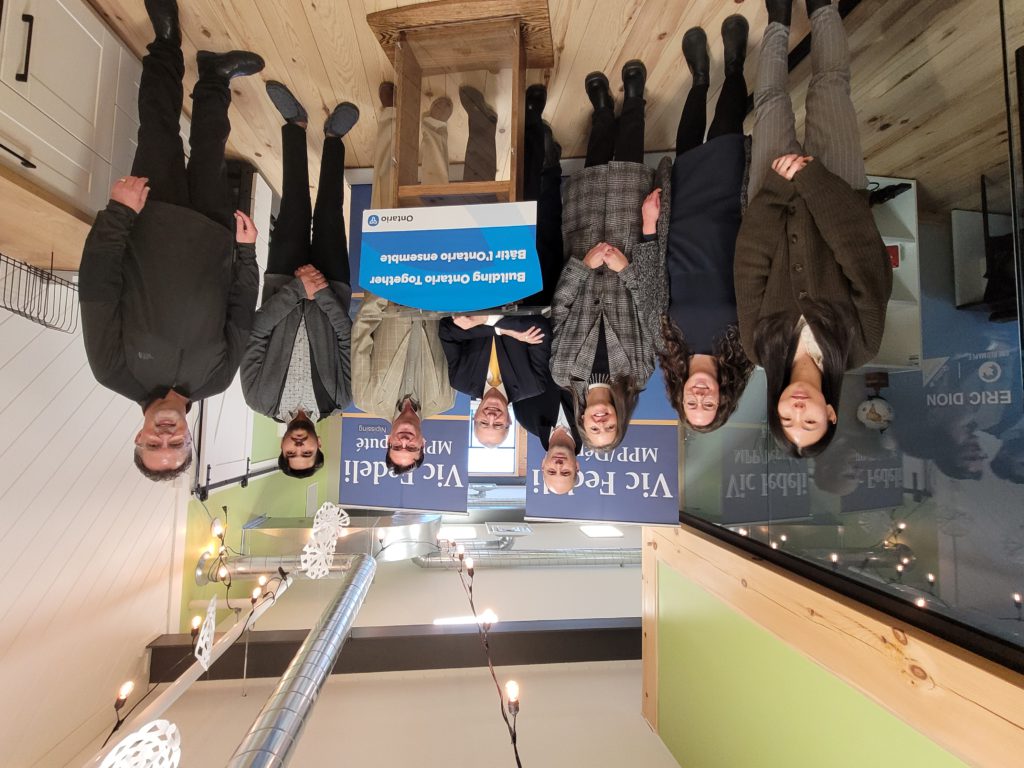 The Ontario government is supporting local internships through the NOHFC's People and Talent Program. The program supports a wide variety of internships, including skilled trades, and addresses the unique needs of other in-demand jobs. Program candidates include new entrants into the workforce, those transitioning to a new career, the unemployed and underemployed.
"The NOHFC intern program is a wonderful program that allows businesses such as ours to develop new talent. One Red Maple used the intern funding to provide job opportunities to new graduates and there is no better place to learn your craft than in a start-up." – Mark Sherry, President, One Red Maple.
"The NOHFC internship program has made it possible for us to bring a new person into our industry and train them. With their help strengthening our team, Jackman's has been able to keep up with all our holiday floral orders." – Erin Pond, Owner of Jackman's.
"The NOHFC People & Talent Program has assisted our organization by allowing for continued growth. We have filled required positions with exceptional talent recruited, from Northern Ontario. This has provided a competitive edge in our industry and assisted Northland Glass & Metal with continued success." – Michael Valenti, President of Northland Glass & Metal.
"Without question, the two internship positions granted by the NOHFC to Critchley Hill Architecture shaped the future success and growth of the firm. Both of these young aspiring professionals will become registered with their respective organizations within two years and the NOHFC can share the credit of facilitating the growth of these outstanding young people." – Ian Hill, Principal Architect, Critchley Hill Architecture
"We are pleased to report that Drillco Mining and Exploration continues to grow. NOHFC's internship program helps Drillco source, hire and retain local talent that develops into value-added, permanent team members." – Sylvain Brisson, President, Drillco Mining and Exploration.
The NOHFC promotes economic prosperity across Northern Ontario by providing financial assistance to projects—big and small, rural and urban—that stimulate growth, job creation and skills development. Since June 2018, the NOHFC has invested more than $578 million in 4,935 projects in Northern Ontario, leveraging more than $1.87 billion in investment and creating or sustaining over 7,870 jobs.
Quick Facts
In 2021, the Ontario government launched new and improved NOHFC programs that support more projects in rural northern communities and make it easier for more people and businesses to apply. The programs target existing and emerging markets, provide more work opportunities for Indigenous people and address the skilled labour shortage in the north.
Additional Resources
The NOHFC, Northern Development Offices and Small Business Enterprise Centres are available to support northern communities, businesses and other stakeholders in identifying economic development opportunities and assist in accessing government funding programs.
A list of all 53 Nipissing NOHFC internship program funding recipients is available on the corporation's website.
---