Over $12 Million for Hospital
May 3, 2022
New investments will ensure local families have access to high-quality health care
NORTH BAY – Today, Vic Fedeli MPP for Nipissing, announced that the North Bay Regional Health Centre will receive an additional $12.3 million for hospital care and new beds. As part of the provincial government's plan to stay open, the NBRHC is receiving and investment of $8,212,500 to add 45 new patient beds. They will also receive $4 million in Fiscal Year funding, which represents an increase of 2% from last year. This is part of the Ontario government's $827 million additional investment to hospitals across the province. And finally, the hospital will receive $142,400 through the Surgical Innovation Fund to assists with same day and early discharge services.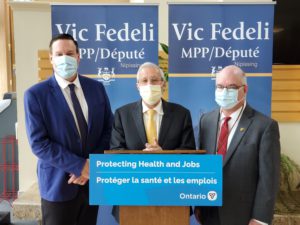 Today's funding is in addition to the recently announced $2.2 million reimbursement for the hospital's lost revenue during the pandemic and a one-time $8 million top-up investment to address additional operating and financial pressures.
"Throughout the COVID-19 pandemic, our local North Bay Regional Health Centre has gone above and beyond to provide exceptional care to patients and families in our community," said Vic Fedeli. "These new investments reflect Ontario's commitment to support high-quality and timely access to health care, and to ensure we have the capacity to stay open."
"Our Health Centre has been vocal about the constant and sustained bed pressures our organization has faced over the past five years, amplified by COVID-19. Early in the pandemic, the Province eliminated ward rooms in long term care as an additional infection control safety measure. In the Nipissing district, this move had a significant impact on our hospital's patient flow as our district has a higher than average number of ward rooms in LTC relative to rest of the province. As a result, the Province created 45 temporary hospital beds for NBRHC to ensure our short term ability to cope with the incremental volume and support our hospital's capacity to provide care. Today's announcement represents a 10 % increase in bed capacity with the addition of 45 new base funded beds – bringing our total to 458. In addition, the 2 % increase to our base funding will help us to manage the impact of inflation and higher acuity in our patients. We are grateful for the stability this brings to our Health Centre," said Paul Heinrich, President & CEO of the North Bay Regional Health Centre.
Over the last four years, the Ontario government has made significant investments in Ontario's hospitals as part of its plan to build a stronger, more resilient health care system that is better able to respond to crisis. This includes overall sector increases four years in a row, representing a total provincial investment of $2.5 billion since 2019.
These new beds are part of a capital plan expansion with more than 50 major projects that will add 3,000 new beds over 10 years​ and support the continuation of over 3,100 acute and post-acute beds in hospitals and alternate health care facilities, and hundreds of new adult, paediatric and neonatal critical care beds. Since the outset of the pandemic, the government has added 777 more intensive-care unit hospital beds with the capacity to now handle 2,448 critical care patients.
QUICK FACTS
To support growing demands on the health care system, Ontario's investments over the next 10 years will lead to $40 billion in health infrastructure across the province. These investments will increase capacity in hospitals, build new health care facilities, and renew existing hospitals and community health centres.
ADDITIONAL RESOURCES
---