Investing $1.4 Million in Training for Good Jobs
April 21, 2022
Province is helping workers earn bigger paycheques and advance their careers
NORTH BAY – Today, Vic Fedeli, MPP for Nipissing joined the ribbon cutting ceremony at Northern Pines. Phase 1 has 16 units with a medium level of support, built at a cost of $1.2 million. Phase 2 has 20 units requiring a low-level of supports, was built at a cost of $2.5 million. Phase 3, which is under construction and scheduled to open later this year, offers 24 units with a high level of support, at a cost of $2.8 million to build.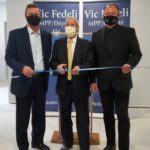 "Today's announcement is in addition to the over $12 million Social Service Relief Funding that DNSSAB has received from the Ontario government since April 2020," said Vic Fedeli. "This funding has helped keep vulnerable people housed and create long-term housing solutions."
The Ontario government is also providing the District of Nipissing Social Services Administration Board (DNSSAB) with $1,413,483 from the Skills Development Fund. Over the next year, this funding will support access into the labour market for individuals seeking employment within the early years and child care sector. It will also support employers in this sector that have been heavily impacted by the COVID-19 pandemic with recruitment efforts and help create a stable workforce.
"Our government is working for workers every day. Through our Skills Development Fund, we're giving the opportunity to early childhood educators, the training they need to fill in-demand jobs in our area," said Vic Fedeli. "Earning bigger paycheques and advancing careers makes a difference for families in our community."
"The DNSSAB, in collaboration with Northern Ontario Service Delivers Association (NOSDA) and northern colleges, is pleased to receive this funding as it will help to address the urgent need for more early years and child care professionals throughout the North." Mark King, Chair of the District of Nipissing Social Services Administration Board.
"I would like to thank our partners at the District of Nipissing Social Services Administration Board for their work in opening these new transitional housing units to vulnerable individuals in our community. Our residents in need will not only have access to housing, they will also receive services and support," said Mayor Al McDonald. "This wouldn't have been possible without the assistance and ongoing investment of the provincial government."
This initiative is supported through the government's Skills Development Fund, which has provided over $200 million in funding for innovative projects that address challenges to hiring, training, or retraining workers during the pandemic.
---