Over $2.4 Million to Support Area Businesses
March 25, 2022
Strategic investments will help strengthen regional economy
NIPISSING – Vic Fedeli, MPP for Nipissing announced that the Ontario government is providing more than $2.4 million through the Northern Ontario Heritage Fund Corporation to 9 projects in the mining supply, forestry, technology and agriculture sectors in Nipissing. This investment will help support job creation, boost economic growth and improve quality of life in northern communities.
"Our government continues to foster a strong future in Nipissing by supporting economic growth, job creation and reaffirming the North as a great place to live and work," said Vic Fedeli, MPP for Nipissing. "It's one more way we are signalling to the world that Northern Ontario is open for business and open for jobs."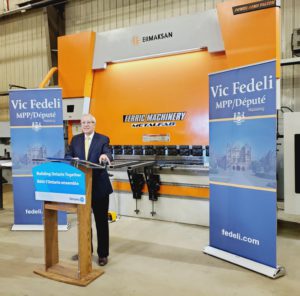 The following funding is being delivered through the Northern Ontario Heritage Fund Corporation (NOHFC):
$887,500 for DDS Drilling Services to purchase new equipment to expand its diamond core drilling services.
$400,020 for Pilot Diamond Tools Ltd. to renovate its facility and purchase new equipment to allow for business expansion
$400,00 for Mano Aggregates Inc to develop an onsite crushing facility for processing of aggregates
$227,717 for JMI Design Studios/The Original Bug Shirt Company to purchase and renovate the building and purchase equipmen
$144,092 for North Bay Machining Centre Inc to purchase a robotic cell and update its electrical infrastructure to help improve productivity.
$56,988 for Metal Fab Limited to purchase new production equipment
$44,967 for Golden Treasures Maple Products to assist with Capital construction and purchase of equipment.
"DDS Drilling Services is a brand new diamond core drilling company based in North Bay, that provides drilling services to exploration companies and operating mines. Financial assistance from NOHFC helped us purchase 2 clean-tech drilling systems, support equipment, and tooling required for our start-up. This project created 16 full-time jobs, all in Northern Ontario, and we continue to expand our operations." – David Jones – co-founder and Business Development Officer
"The NOHFC Funding for Metal Fab Limited to purchase new production equipment will streamline processes and allow our business to increase workflow," said Jake Grasser, General Manager of Metal Fab Ltd. "It will also allow us decrease lead times, while maintaining & improving the quality for products and services we provide."
The NOHFC promotes economic prosperity across Northern Ontario by providing financial assistance to projects – big and small, rural and urban – that stimulate growth, job creation and skills development. Since June 2018, the NOHFC has invested more than $473 million in 4,244 projects in Northern Ontario, leveraging more than $1.5 billion in investment and creating or sustaining over 6,600 jobs.
Quick Facts
In 2021, the Ontario government launched new and improved NOHFC programs that support more projects in rural northern communities and make it easier for more people and businesses to apply. The programs target existing and emerging markets, provide more work opportunities for Indigenous people and address the skilled labour shortage in the North.
Additional Resources
---