Fedeli Announces Over $12.5 Million for Small Businesses in Nipissing
August 12, 2021
NORTH BAY – MPP Vic Fedeli is pleased to announce that 500 businesses in Bonfield, Callander, Calvin, East Ferris, Mattawa, Powassan, Nipissing and North Bay received $12,650,570 through the Ontario Small Business Support Grant.
"The Ontario Small Business Support Grant has provided financial relief to many local small businesses in Nipissing," said Vic Fedeli, MPP for Nipissing. "This funding has helped businesses get back on the road to economic recovery."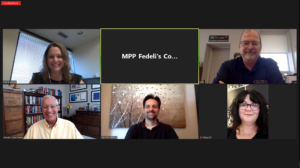 "The Ontario government has understood the type of support small business and the economy has needed in these unprecedented times," said John Lechlitner, Owner of Cecil's Brewhouse and Kitchen. "The Ontario Small Business Support Grant assisted our company quickly so we could evolve and survive during the pandemic and in the new economic times."
"The Grant money provided me the stability to pay off debt accumulated for rent, products and stock retail, and gave me peace of mind to get through the third lockdown," said Lori Thompson, Owner of The Beauty Parlor.
"Even though we were able to open with a curb side option, business was significantly down. The Ontario Small Business Grant, gave us the opportunity to continue paying business costs regularly and avoid any further debt," said Marcello Pettella, Owner of Vic's Shoe Repair.
This grant provided help to small businesses that were required to close or significantly restrict services under the Provincewide Shutdown effective December 26, 2020.
The Ontario Small Business Support Grant program delivered two rounds of direct payments of $10,000 to $20,000 each to over 110,000 small businesses across the province, totalling nearly $3 billion in funding. This helped business owners get through one of the toughest periods in our province's history.
This money went straight to small businesses to be used however it made sense for them, whether paying employee wages or rent, or covering other costs associated with keeping their businesses afloat during difficult times.
---