$365,000 to Improve Road Safety in Nipissing
July 19, 2021
NORTH BAY – Vic Fedeli, MPP for Nipissing announced the upgrading of 32 end terminals in our region have been completed, contributing to safer roads for local residents and maintaining Ontario's position as having one of the safest road networks in North America.
Over $365,000 of funding has been provided through Ontario Ministry of Transportation (MTO). These 32 Steel Beam Energy Attenuating Terminal (SBEAT) systems will help protect motorists in the Bonfield, Nipissing, North Himsworth, and areas throughout North Bay, from hazards and reduce the severity of crashes in the event of a collision. These improvements are located along Highways 654, 17 and 11 and they play a crucial role in the road safety of Nipissing District.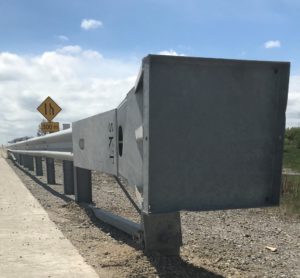 "As summer driving season is in full swing and cottage goers, vacationers and commuters hit the road, it is crucial to prioritize road safety," said Nipissing MPP Vic Fedeli. "Upgrading outdated roadside safety infrastructure throughout our region not only welcomes back travelers as the province reopens, but creates jobs and provides local economic stimulus."
The SBEAT systems comply with the most current crash test guidelines in North America, the Manual for Assessing Safety Hardware (MASH 2016) which have been implemented by the MTO. These SBEATs are top of the line in road safety devices that offer world class safety performance to reduce the severity of vehicle collisions and save lives.
As Ontario prepares to enter Step 3 of its Roadmap to Reopen, now is a critical time to prioritize the maintenance and modernization of road safety devices for the wellbeing of the driving public and road workers and to increase visibility of the provincial government's efforts to support Nipissing region's economic growth.
QUICK FACTS:
Ontario is a leading road authority in North America in roadside safety
Older crash tested devices, such as the devices that have been removed and replaced in Bonfield, Nipissing, North Himsworth, Olive and Widdifield, were tested back in 1993 using vehicles, data, and best practices from that time.
The devices that replaced the outdated system were crash tested to current safety guidelines (MASH 2016). Crash tests were conducted incorporating the current vehicle fleet, utilizing current crash data and in-service performance statistics
MTO approved road safety infrastructure that are currently being implemented onto the road network in Ontario today are among the safest in the world
Road safety infrastructure improvements are shovel ready projects that provide local economic stimulus, create safer communities, and help create more Ontario jobs.
To learn more about road safety infrastructure, Ontarians can visit ontarioroadsidesafety.com
---