Ontario Creating Job Opportunities in Our Care Sector
April 8, 2021
Province supporting new training partnership for 27 job-seekers in North Bay
NORTH BAY – To help the province recover from the COVID-19 pandemic, Vic Fedeli MPP for Nipissing announced that the Ontario government is investing $296,502 to fill in-demand jobs in North Bay's long-term care sector. In consultation with local employers, Yes Employment has developed a SkillsAdvance Ontario training program that will help 27 unemployed job seekers find rewarding work in long-term care as personal support workers and dietary staff.
"With more jobs coming to the region, this project is good news for the people of North Bay," said Vic Fedeli, MPP for Nipissing. "This funding will also help local employers in long-term care find the skilled workers they need, so we can provide good care to those in our community who need it most."
"Yes Employment Services is very excited about this new opportunity to help strengthen our local workforce," said LeeAnne Maille, CEO of Yes Employment Services. "The labour market data shows that our local employers are currently not able to find the PSW and Dietary Aide staff they need. The project will go along way in filling this skills gap."
"Connecting workers with the jobs we know are available in their communities is an essential part of our economic recovery plan," said Monte McNaughton, Minister of Labour, Training and Skills Development. "With the right training, job seekers and laid-off workers can find work close to home, while making an important impact in their communities."
This project is based on a similar SkillsAdvance Ontario initiative brought to Mattawa in 2020, which successfully helped 11 job seekers complete training and find employment as Personal Support Workers. Training is anticipated to begin in mid-May and will last up to 26 weeks, with job placements beginning immediately after.
Ontario's 2021 Budget, Ontario's Action Plan: Protecting People's Health and Our Economy, includes measures to help workers and families recover from COVID-19 by investing an additional $614.3 million during 2020–21 and 2021–22 for employment and training supports, and proposing the new Ontario Jobs Training Tax Credit, a one-time credit that would provide up to $2,000 for workers who enroll in an eligible course or training program in 2021.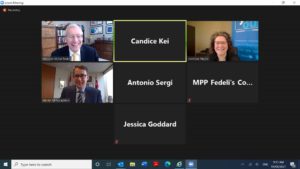 QUICK FACTS
There are approximately 50 active SkillsAdvance Ontario projects across Ontario, dedicated to sector-specific training for jobs in the hospitality and tourism; hospitality and food; steel; mining; construction; manufacturing; warehousing; transportation; healthcare; social assistance; PSW; early childhood education; agriculture, forestry, fishing and hunting; arboriculture; landscape and horticulture; cannabis; financial services; and accessible digital media transportation sectors.
The Employment Ontario network includes more than 300 partner organizations across Ontario that offer a range of free services and supports that help businesses find workers and connect jobseekers to training and job opportunities.
---