Ontario Provides over $1.4 Million for Region's Innovative Manufacturing Sector
November 9, 2020
NIPISSING – Today, Vic Fedeli, MPP for Nipissing announced an investment of over $1.4 million to five companies through the Northern Ontario Heritage Fund Corporation (NOHFC) and will help create 17 new full-time jobs and promote economic development in the north.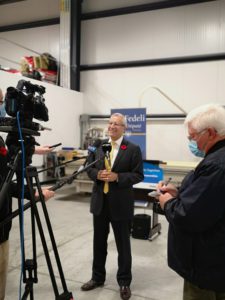 "Supporting businesses and local manufacturing in our region will help create jobs and contribute to our economic recovery from the COVID-19 outbreak," said Vic Fedeli, MPP for Nipissing. "As the economy continues on its path to renewal, growth and economic recovery, our government recognizes the importance of keeping the North competitive by supporting Ontario manufacturing and their Ontario-made products."
The NOHFC investments include:
Central Welding and Iron Works is receiving $726,750 to increase production capacity by automating their drilling process
Designed Roofing Inc. is receiving $400,000 to assist with construction of their new building at the Airport Industrial Business Park
CO-OP Régionale is receiving $128,561 for the replacement of a commercial grain dryer
Jacques Dalcourt is receiving $118,872 to assist with forestry equipment upgrades
MetricAid Inc. is receiving $72,083 support their scheduling software which services physicians working in emergency departments of hospitals
"I'm honoured to help celebrate the opening of this new manufacturing facility and officially welcome Designed Roofing Inc., Essential Exteriors and Northland Glass & Metal Ltd. to the North Bay Airport Industrial Business Park. City Council remains committed to an environment that supports local business growth and we are pleased that NOHFC has invested in the expansion of Designed Roofing, Central Welding & Iron Works and MetricAid along with the other organizations in the region" said Mayor Al McDonald.
The NOHFC promotes economic development across Northern Ontario by providing financial assistance to projects – big and small, rural and urban – that stimulate growth, job creation and skilled workforce development.
---