Ontario to Open Select Child Care Centres across the Province
April 15, 2020
NIPISSING — Today, Vic Fedeli, MPP for Nipissing, is pleased to share the government's announcement on emergency child care for health care and frontline workers during this COVID-19 outbreak. Ontario is exempting certain childcare centres from closure, in order to support our nurses, doctors, and frontline care workers across the province.
"During these challenging times, our Government is supporting our courageous frontline workers with emergency childcare centres so they can rest assured knowing their children are being looked after in a safe place," said Fedeli. "Our frontline workers will have access to safe, local child care centres, making it easier for health care and other frontline workers to do their jobs."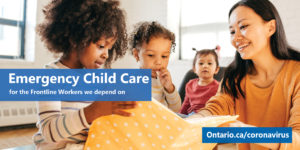 Nipissing will see the YMCA Woodland Early Learning and Child Care Centre open, and Powassan will see the Fairview Early Learning and Child Care Centre open for our frontline workers. Our government is thankful for all the child care professionals who are working hard to keep our children safe, and for our municipal partners and child care operators across the province, who made this possible.
"We know that as health-care and other front-line workers try to keep us safe, they could use help on the home front," said Education Minister, Stephen Lecce. "That is why we are teaming up with partners to deliver in unprecedented speed child care centres near hospitals and other health care facilities across Ontario."
As emergency child care centres open, a list of locations will be made available on ontario.ca/coronavirus.

Quick Facts
On Tuesday, March 31, Ontario launched the second phase of Learn at Home and Apprendre à la maison, a new online portal that will provide resources for families so students can continue their education while schools are closed due to the ongoing COVID-19 situation.
Visit Ontario's website to learn more about how the province continues to protect Ontarians from COVID-19.

Additional Resources

Media Contact

Rebecca Bozzato
Minister Fedeli's Office
rebecca.bozzato@ontario.ca
---