Ontario Investing in Critical Hospital Upgrades and Repairs in Nipissing
December 20, 2019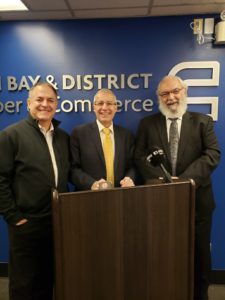 NORTH BAY – Ontario is investing in the health and safety of patients as it addresses urgent upgrades, repairs and maintenance to help 131 hospitals across the province.
Today, Nipissing MPP Vic Fedeli announced nearly $1.4 million for three area hospitals to maintain their infrastructure and ensure a safe and comfortable environment for patients to receive care. This is part of the government's investment of $175 million this year through the Health Infrastructure Renewal Fund to support hospitals across the province. Hospitals receiving funding as part of this investment include:
North Bay Regional Health Centre- $733,835
Mattawa General Hospital –  $440,000
West Nipissing General Hospital / Hopital General de Nipissing Ouest – $221,188
"These investments will help ensure that patients in Nipissing and across Ontario can receive the care they need in a safe and comfortable setting," said MPP Fedeli. "Seemingly small things like well-functioning roofs, windows or heating and air conditioning systems, fire alarms and back-up generators can make the world of difference to a patient's experience. The Health Infrastructure Renewal Fund will help ensure that hospitals across Ontario are able to make the needed upgrades and improvements, so patients and families have access to the reliable, quality care they expect and deserve."
As the government continues to work toward bringing Ontario's world class health care system into the 21st century, this funding will help hospitals to address urgent issues.
"Ontario has a plan to build a connected and sustainable public health care system centred around the needs of patients, including investing $27 billion over 10 years in hospital infrastructure projects," said Fedeli. "Maintaining hospital infrastructure is one more example of how we are working towards ensuring that Ontarians have the health care services they can depend on while building the capacity we need to end hallway health care."
QUICK FACTS
Ontario is investing $175 million in repairs and upgrades to 131 hospitals this year through the Health Infrastructure Renewal Fund.
In addition, Ontario is investing $7.2 million to address ongoing urgent and/or emergent infrastructure renewal needs for community health service providers who met specific criteria on a priority basis, through the Community Infrastructure Renewal Fund.
 ADDITIONAL RESOURCES
---