Ontario Supporting Film Production, Business Expansion in Nipissing
December 13, 2019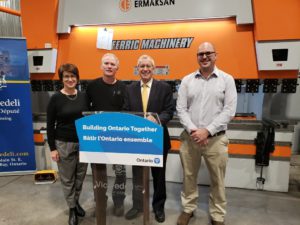 NORTH BAY – Ontario's government is supporting economic diversity and job growth in Nipissing with investments of nearly $2 million in local film productions and small businesses.
Today, Vic Fedeli, MPP for Nipissing, announced $1.4 million through the Northern Ontario Heritage Fund Corporation (NOHFC) to support three film and television productions.
Investments include:
$500,000 to HP Crossword Mystery Productions Inc. to produce the television movie Crossword Mystery Season 1
$500,000 to Kid Detective Productions Inc. to produce the feature film The Kid Detective
$421,775 to Cosmic Dawn Entertainment Inc. to produce the feature film The Cosmic Dawn
"Film and television production in North Bay and Nipissing has become a success story that is continuing to grow," said Fedeli. "Our government is committed to strengthening this growing local industry because these investments create jobs, develop homegrown talent and support other businesses in the area."
Fedeli also announced NOHFC investments of more than $500,000 to support four small businesses, creating 17 full-time jobs.
Investments include:
$213,618 to Canelec Manufacturing & Development Inc. to build a new warehouse and purchase specialized equipment to meet the need for mining electrical equipment
$196,058 to Castle Glass & Mirror to expand its glass manufacturing operations
$146,065 to Resolution Machining to purchase specialized machinery for custom machining, fabrication and welding
$8,475 to Wand Family Farm to purchase equipment and expand its cattle and lamb farming operations
"These investments support economic diversity and growth in the region," continued Fedeli. "We are building strong, vibrant communities and real opportunities across the north for the people who live here and companies that want to invest, sending a strong signal to the world that Northern Ontario is open for business and open for jobs."
Quick Fact
The Northern Ontario Heritage Fund Corporation (NOHFC) invests in economic development projects across the north. Since June 2018, the NOHFC has invested more than $147 million in 1003 projects in Northern Ontario. This has leveraged more than $699 million in investment and created or retained over 3,048 jobs.
---