Government Improves Forest Industry Support Program
November 29, 2019
NIPISSING — The Ontario government is helping the forest sector grow and supporting communities across the province by redesigning a key forestry support program to make it more streamlined, transparent and user-friendly.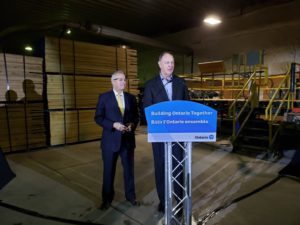 John Yakabuski, Minister of Natural Resources and Forestry, was joined by Vic Fedeli, Minister of Economic Development, Job Creation and Trade, to announce the new Forest Sector Investment and Innovation Program (formerly the Forestry Growth Fund), which will provide up to $10 million per year in funding over five years.
"We have a plan to create the right conditions to help the forestry industry innovate and create jobs and prosperity for communities across the province," said Minister Yakabuski. "By transforming the program, we're making it easier for more forestry businesses to apply and get access to funding."
The program will put more emphasis on the impact a project can have on a region and on Ontario's overall forest sector, while still considering key outcomes such as jobs, innovation, and productivity or product enhancements. The objective of the program will be to support strategic projects that improve productivity and innovation, enhance competitiveness, support new market access, and strengthen supply chains and regional economies.
As part of the plan to build Ontario together, the government is transforming business support programs under the Open for Jobs Blueprint – a new vision and approach to help drive Ontario's economy and create quality jobs, while increasing accountability and transparency.
"Our government is committed to creating an environment where businesses in every corner of the province can focus on what they do best — create good jobs," said Fedeli. "That is why we're transforming Ontario's business supports to ensure we help our job creators and build smarter government for now and in the future."
"The Ontario forest sector continues to innovate and adapt in a rapidly changing environment. OFIA is very supportive of a more efficient and accessible funding program that will incentivize investment, encourage integration and create jobs in all regions of the province. We are grateful for the commitment by the Ontario government to grow our sustainable and renewable sector," said Jamie Lim, Chief Executive Officer of the Ontario Forest Industries Association.
The province will soon launch a draft forest sector strategy that will aim to help industry innovate, attract new investment, and protect and create jobs, securing a future for the communities and families who depend on the industry.
Ontario's forest sector supports about 155,000 direct and indirect jobs across the province and generates over $16.6 billion in revenue.
Additional Resources
Find out more about the Forest Sector Investment and Innovation Program.
---