Ontario Committed to Improving Transportation in the North
November 12, 2019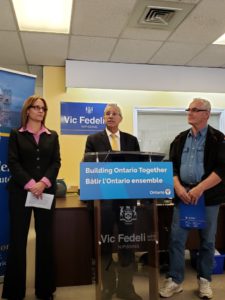 NORTH BAY – The government's plan to build Ontario together includes improving vital Northern transportation services, Nipissing MPP Vic Fedeli said today.
Fedeli was joined by Corina Moore, President and CEO, Ontario Northland Transportation Commission (ONTC), and Andy Mitchell, President, Unifor Local 103, to discuss the future of Ontario Northland and the government's recent fall economic update.
The government will explore the feasibility of transferring the Ontario Northland Transportation Commission to the Ministry of Transportation from the Ministry of Energy, Northern Development and Mines. This could allow the Province to centralize ministerial oversight of all government agencies with a mandate to deliver transportation services and create opportunities to improve services.
"Northeastern Ontario has been united with one voice on the importance of Ontario Northland, and where we all feel it needs to go next. Our government has listened," said Fedeli.
In parallel with this work, the Province will explore options to enhance intercommunity bus services provided by the Ontario Northland Transportation Commission, to ensure underserved and unserved Northern communities are connected and people have access to jobs and critical services.
"Make no mistake, our government's commitment to Ontario Northland is clear," Fedeli added.
"We are taking the steps necessary to ensure Ontario Northland remains an important driver for economic development; that it will keep people and goods moving in the North, and that Ontario Northland will help make the North open for Business and open for jobs now and in the future."
"Aligning Ontario Northland with the Ministry responsible for transportation planning, infrastructure, and integrated transportation service delivery across the Province is positive for Ontario Northland and the North. This model ensures more effective collaboration between the two Provincial transportation agencies and will continue to create opportunities to improve seamless transportation services for our rail and bus passengers;" said Moore. "We are excited to implement expanded services to ensure improved transportation options across Northern Ontario."
"We have been vocal for quite some time to the Premier about transferring Ontario Northland to the Ministry of Transportation," said Mitchell. "We have great synergies with Metrolinx and reporting to the same Ministry will only enhance transportation services across the Province. We're pleased that the government is listening and hope for a seamless and timely transition."
QUICK FACTS
The government's plan to build Ontario together also helps to reduce the cost of living in Northern Ontario by proposing to reduce the aviation fuel tax rate in the North to 2.7 cents per litre from 6.7 cents per litre.
Supporting the forestry sector by investing $10 million annually through the renewed Forestry Growth Fund, which will help businesses access capital, predominantly through loans and loan guarantees.
Helping large industrial companies in Northern Ontario remain competitive through the Northern Industrial Electricity Rate program, which provides participating companies a rebate for electricity costs.
Supporting Ontario's mining and exploration sector by looking into options to improve access to capital for businesses in this sector.
LEARN MORE
·     Read the 2019 Ontario Economic Outlook and Fiscal Review: A Plan to Build Ontario Together (ontario.ca/fallstatement)
---