Chisholm Celebrates Bridge Replacement
November 1, 2019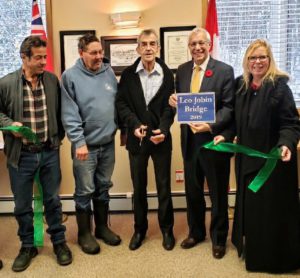 CHISHOLM — An official ceremony was held today to celebrate completion of the replacement of Bridge #4 on River Road at the Mallard Haven intersection in the Township of Chisholm. Vic Fedeli, Member of Provincial Parliament for Nipissing, and Leo Jobin, Mayor of the Township of Chisholm, are pleased to see this important Ontario Community Infrastructure Fund (OCIF) project reach completion.
OCIF is helping rural municipalities build and improve critical infrastructure which includes road, bridge, water and wastewater projects in their communities.
The Government of Ontario contributed $680,935 to this project. The Township of Chisholm committed the balance of the project.
"I'm so pleased that our government has partnered with the Township of Chisholm to build the new bridge on River Road," said Ernie Hardeman, Minister of Agriculture, Food and Rural Affairs. "This investment will help ensure traffic flows safely and reinforces our commitment to helping rural communities manage the challenges of replacing critical infrastructure."
"We need to build and maintain great road and bridge infrastructure to help get people in Nipissing to work and home safely to spend more time with their families. Our government continues to work with its partners to make smart investments in our infrastructure and keep it reliable so we can continue creating jobs and growing the economy here in Northern Ontario," said MPP Fedeli.
"The Township would not be able to keep up with the replacement of important municipal infrastructure, if it was not for project specific funding from the province." said Mayor Jobin.
Council passed a resolution at its October 8, 2019 Regular Council meeting to name the replaced bridge at River Road as the Leo Jobin Bridge. "The Mayor is always working hard and is very dedicated to the township" says Councillor Chris Jull, "he deserves to have this legacy."
For further information on the Ontario Community Infrastructure Fund, visit https://www.ontario.ca/page/infrastructure-funding-small-communities
---