Ontario Supporting Economic Development in North Bay
October 4, 2019
Ontario's government is working for the people of North Bay by helping local businesses retain jobs and create new employment opportunities.
Today, Vic Fedeli, MPP for Nipissing, announced the City of North Bay will receive $42,000 to develop a business retention and expansion program.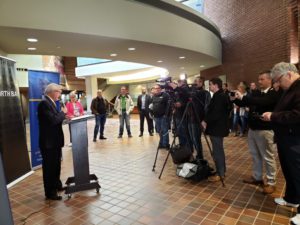 "Our government is committed to supporting communities like North Bay in identifying opportunities for economic growth," said MPP Fedeli. "This investment will help create jobs and sends a signal to the world that Northern Ontario is open for business."
"It's important that we listen to and support our business community. This program will help to retain jobs and promote new hiring and expansion," said North Bay Mayor Al McDonald. "It's through partnerships and investments like this that we will be positioned to grow our community."
The business retention and expansion program will help gauge the health of the local economy and collect data for use in long-range planning by helping the community to identify opportunities for business retention and growth. Additionally, the program will improve business competitiveness and help diversify the local economy.
Quick Facts
The Northern Ontario Heritage Fund Corporation (NOHFC) invests in economic development projects across the North. Since June 2018, the NOHFC has invested more than $120 million in 708 projects, creating or retaining over 2,368 jobs.
The business retention and expansion program will help North Bay businesses identify barriers and opportunities for economic development.
---