Ontario Investing in Local Frontline Care Critical to Ending Hallway Health Care
September 19, 2019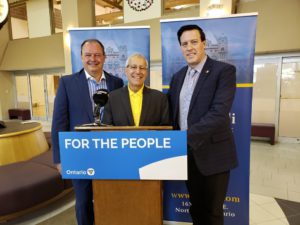 NORTH BAY – Today, Vic Fedeli, MPP for Nipissing announced that the government is providing additional funding for expanded home and community care in Nipissing.
The government is investing $2,040,000 in the existing integrated care model at the North Bay Regional Health Centre to continue operation of the 14-bed transition unit to support patient flow and relieve health system pressures following the closure of Lady Isabella Nursing Home in the region.
"Home and community care play a critical role to end hallway health care in Nipissing," said Fedeli. "By making these significant investments and supporting partnerships between home and community care providers and busy hospitals, patients will experience quicker transitions between care providers with the appropriate support they need to properly recover, while also making sure hospital beds are available for those who need them."
Ontario is investing an additional $155 million this year to expand home and community care services across the province, including $45 million for new targeted innovative integrated care models in high-need areas, and $63 million in funding for existing integrated care models in communities across Ontario.
This funding, which will help patients receive more care at home so that they can leave the hospital sooner, is a critical component of the government's plan to end hallway health care.
By investing in more frontline patient care across Ontario, the province can provide:
1.8 million more hours of personal support services;
490,000 more nursing visits and 100,000 more therapy visits;
Services in the community like homemaking, meals, transportation and caregiver supports; and
Additional direct community services for patients with acquired brain injury and people living in supportive housing.
"By investing in targeted partnerships between hospitals and home and community care providers, we can tackle the challenge of hallway health care head on to ensure patients are receiving the high-quality care they expect and deserve," added Fedeli.
Quick Facts:
The 2019 budget committed $124 million in home care and $20 million in community care. The government is providing an additional $11 million for home and community care, bringing the total new investment to $155 million.
---