Ontario Supporting Airport Runway Extension in North Bay
September 13, 2019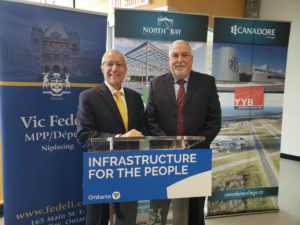 Ontario's government is working for the people of Nipissing by investing in infrastructure critical to local economic development, retaining existing jobs and creating new employment opportunities.
Today, Vic Fedeli, MPP for Nipissing, announced an investment of more than $2.4 million for the Jack Garland Airport to repair and extend its cross-wind runway and approach light system.
"Our government is committed to supporting Northern communities, making them attractive places to both live and work," said MPP Fedeli. "This project provides the critical infrastructure needed to retain and attract new business to North Bay and sends a signal to the world that Northern Ontario is open for business."
This funding will benefit the existing local aviation and aerospace industries, while paving the way for future investment and job growth.
Quick Facts
The NOHFC invests in economic development projects across the North. Since June 2018, the NOHFC has invested more than $120 million in 708 projects, creating or retaining 2,368 jobs.
This funding will be used to repair and extent the cross-wind runway and approach light system.
Jack Garland Airport has the longest runway in Northern Ontario and has regular service to and from Toronto, and other Northern Ontario centres.
---