Ontario Investing in Highways in North Bay and Callander
September 13, 2019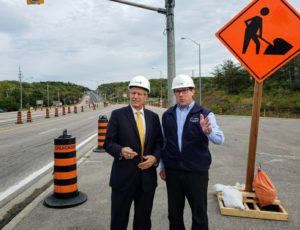 NORTH BAY/CALLANDER – Ontario's government is making life easier for drivers and increasing road safety by making more than $25 million in improvements to Highway 11 in North Bay and Highway 94 in Callander.
Today, Vic Fedeli, MPP for Nipissing announced that construction is moving ahead on these two projects, with $5.7 million of work set to begin on Highway 94 on Monday, September 16.
"We are excited to get shovels in the ground on highway improvement projects in North Bay and Callander," said MPP Fedeli. "Our government is putting people first with an investment that will strengthen our highway network, get people moving and keep our roads safe."
The improvements to Highway 94 in Callander will increase safety and include a new traffic signal and guiderails along the highway. Improvements to Highway 11 in North Bay valued at nearly $19.8 million are already underway to repave 17 km of highway and replace existing lights with LED lights.
The two projects are scheduled to be completed in fall 2020.
Today's announcement is in addition to the $27.3 million Ontario is investing in the Highway 17/94 intersection improvements in East Ferris, Highway 11/17/Seymour Avenue intersection improvements in North Bay and the Highway 17B Duchesnay Creek Bridge replacement in Nipissing First Nation.
Together, these five projects are an investment of $52.7 million in local highways in Nipissing.
---