Ontario Commits To North Bay Transit Projects Worth More than $11 Million
August 16, 2019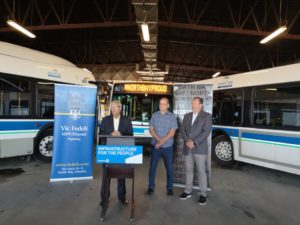 NORTH BAY Ontario is providing a further $3.5 million in support for municipalities to get people moving by investing in additional transit infrastructure projects in North Bay, Nipissing MPP Vic Fedeli announced today.
That means priority projects from the City of North Bay worth more than $11.4 million in total are being nominated under the Public Transit stream of the Investing in Canada Infrastructure Program (ICIP).
"We're excited to get shovels in the ground; these initiatives promise to make a real difference in people's lives by helping them spend less time commuting and more time doing things they love with those they care most about," said Fedeli.
"Now it's up to the federal government to approve them."
The provincial contribution to the additional projects includes:
$2,965,981 for construction of sidewalks
$211,185 for facility improvements to the fleet garage and bus barn
$146,985 for new bus shelters, concrete pads and digital signage at bus stops
$87,491 for Transit On-Demand
$53,194 for purchase of additional trackless unit
$40,252 for fleet garage and bus barn facility rehabilitation
This is in addition to $300,000 the province committed to last month for transit terminal rehabilitation and  improvements, improvements to specialized transit buses including installation of automated vehicle location systems and security cameras, and for bicycle racks and related storage areas.
The projects are now with the federal government for final funding decisions as they are reviewed for eligibility under the ICIP program.
QUICK FACTS
The Investing in Canada Infrastructure Program is a $30 billion, 10-year infrastructure program cost-shared between federal, provincial and municipal governments. Ontario's share per project will be up to 33.33 per cent or about $10.2 billion spread across four streams: 1. Rural and Northern, 2. Public Transit, 3. Green, 4. Community, Culture and Recreation.
Funding is allocated to transit systems based on a municipality's or municipalities' share of total transit ridership in Ontario as per the 2015 Canadian Urban Transit Association Fact Book. This allocations-based funding model was set by the federal government.
The government also nominated 144 road, bridge, air and marine infrastructure projects under the Rural and Northern stream.
ADDITIONAL RESOURCES
---