Ontario Supporting Business, Job Creation in North Bay
July 22, 2019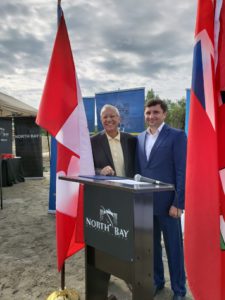 NORTH BAY – Ontario's government is working for the people with an investment in a new North Bay area business, creating 45 full-time jobs.
Today, Vic Fedeli, MPP for Nipissing, announced more than $1.4 million in grant funding for Canada Meat Group to build a meat processing plant and cold storage facility.
"This announcement will help economic growth in North Bay by creating jobs and ensuring the North remains a great place to live and work," said MPP Fedeli. "It's one more way we are signalling to the world that Northern Ontario is open for business."
The facility will produce high-quality Kosher and Halal meat products, addressing the growing demand for specialized beef products.
Quick Fact
Since June 2018, the Northern Ontario Heritage Fund Corporation has invested more than $82 million in 539 projects, creating or retaining over 1,437 jobs.
---