Ontario Nominating Infrastructure Projects to Support Nipissing
July 17, 2019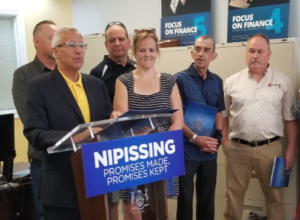 NORTH BAY — Ontario's government is investing in what matters most by nominating $20 million worth of local infrastructure projects for funding as part of an effort to improve the province's infrastructure, create jobs and grow the economy.
If approved by the federal government, the provincial funding share would total more than $6 million.
Nipissing MPP Vic Fedeli announced today that the Province has nominated the following projects to the federal government as part of the Rural and Northern stream of the Investing in Canada Infrastructure Program (provincial funding share in brackets):
McKeown Avenue Four-Laning in North Bay ($1,666,500)
Dorion Hill Road Reconstruction in Mattawa ($1,594,507)
Alderdale Road Reconstruction in Chisholm Twp. ($876,788)
Gull Bay Roads Rehabilitation in Nipissing First Nation ($808,649)
Murphy Road Bridge Replacement in Mattawan Twp. ($625,145)
Maple Hill Road Rehabilitation in Powassan ($488,717)
"We need to build and maintain great road and bridge infrastructure to help get people to work and home safely, so they can spend more time with the people they love," said Fedeli.
As of July 17, 41 new projects have been nominated to the federal government under the Rural and Northern stream. These are in addition to the 49 projects nominated for review on May 10.
The federal government will review these projects and make final funding decisions.
"We're continuing to work with municipalities, families and businesses, to make smart investments in our infrastructure, and keep it reliable," says Minister of Infrastructure Laurie Scott. "Our investments are creating jobs and growing the economy, shaping the future for hard-working families in Ontario."
QUICK FACTS
The Investing in Canada Infrastructure Program is a 10-year program that provides up to $30 billion in federal, provincial and local investments in communities across the province. Funding will be distributed between four streams:

Rural and Northern
Public Transit
Green
Community, Culture and Recreation

Ontario's share per project will be up to 33.33 per cent, or about $10.2 billion spread across the four streams.
The Rural and Northern stream of the Investing in Canada Infrastructure Program was launched on March 18 and closed on May 14, 2019.
The first Public Transit stream for municipalities outside of the Greater Toronto and Hamilton Area (GTHA) launched on April 2 and closed on May 28, 2019.
In May 2019, the government nominated five additional major transit projects in the City of Toronto and Region of York to the federal government for approval.
In June 2019 the government nominated 10 transit projects in the city of London to the federal government for approval.
ADDITIONAL RESOURCES
Grants Ontario: List of Grants by Ministry
---