Ontario Putting Nipissing Seniors at Centre of Connected Health Care System
June 25, 2019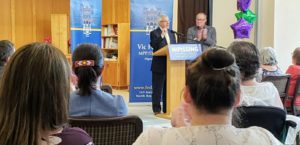 NORTH BAY — Today, Vic Fedeli, MPP for Nipissing, was at Cassellholme East Nipissing District Home for the Aged in North Bay to announce that the government is building a new long-term care facility, upgrading the 240 existing beds to modern design standards, and adding 24 new long-term care beds.
"Our government believes that Ontarians deserve access to high-quality, health care they can rely on, including safe, comfortable spaces for our seniors to receive the care they need," said Fedeli. "These new projects are putting patients first through our plan to improve access to the best possible care for residents and families in a comfortable, modern and safe space closer to home. After first being promised by the previous government nine long years ago, it is our government under Premier Ford that is finally delivering this important project for the people of Nipissing."
Across the province, there are over 34,000 Ontarians waiting to get into a long-term care home, straining the health care system and leaving patients waiting too long for care. That's why Ontario's Government for the People is delivering on its commitment to end hallway health care by adding more long-term care beds in communities across Ontario.
This project, when complete, will include a 16-bed provincial Indigenous unit and two, 12-bed units dedicated for specialized dementia care. The new long-term care bed allocations in North Bay are part of the government's commitment to add 15,000 long-term care beds in five years. These new beds will help take pressure off hospitals, allow doctors and nurses to work more efficiently, and provide better, faster health care for Ontario families and patients.
"We committed to the people of Ontario during the election that we would end hallway health care and we are fully-committed to delivering on that promise," said Merrilee Fullerton, Minister of Long-Term Care. "Our government has fulfilled more than half of our promise to add new long-term care spaces across Ontario over five years and we will continue to accept applications for more projects. These beds are part of our government's long-term plan to build a modern, integrated and sustainable public health care system centred on the needs of patients."
Additional Resources:
---