Ontario Supporting Businesses, Creating Jobs in Nipissing
June 24, 2019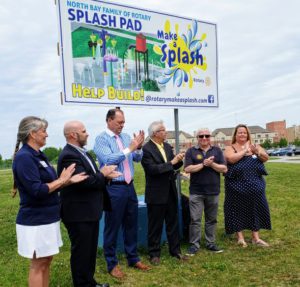 Ontario's government is working for the people by investing nearly $850,000 from the Northern Ontario Heritage Fund Corporation (NOHFC) in four local businesses in North Bay, creating 15 full-time and 2 part-time jobs.
Today, Vic Fedeli, MPP for Nipissing, was in the Downtown-Waterfront park area to announce $150,000 for the City of North Bay to build the North Bay Rotary splash pad.
"This project is something the community has been working toward for sometime, and it's exciting that our government is helping to bring it to fruition, for all to enjoy for years to come," said Fedeli.
Other funding includes:
$400,000 for Haskins Industrial Inc. to expand its saw manufacturing capabilities by purchasing new equipment and optimizing its existing facility.
$200,000 for Gateway City Brewery to establish a microbrewery.
$98,000 for the North Bay Area Museum Society to undertake a site assessment of the former North American Aerospace Defense Command (NORAD) underground complex with the goal of making it a world-class heritage preservation facility.
"This funding will help create a strong future in North Bay by boosting economic growth, creating jobs and ensuring the North remains a great place to live and do business," said Fedeli. "It's one more way we are signalling to the world that Northern Ontario is open for business."
Quick Fact
Since June 2018, the Northern Ontario Heritage Fund Corporation has invested more than $82 million in 539 projects, creating or retaining over 1,437 jobs.
---