New Licence Plate and Driver's Licence To Reflect Ontario's Optimistic Future
April 15, 2019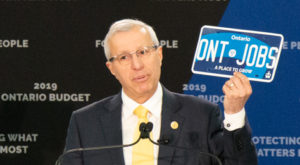 NORTH BAY – Ontario's Government for the People is introducing updated personal and commercial licence plates along with a new driver's licence design that reflects a renewed government promise to put people first in everything it does. The licence plate and driver's licence renewal process enhance the quality, design and production of both important products while saving taxpayers millions of dollars each year.
"We are renewing the licence plate and driver's licence because it represents how we are renewing our entire approach to government," said Nipissing MPP Vic Fedeli. "Our government is embracing change because we recognize that the old established ways of working are no longer good enough."
Starting February 1, 2020, all licence plates issued will be of the new plate design and Ontarians will also be able to voluntarily purchase a new licence plate featuring one of two optimistic slogans.  Ontario Passenger Plates will feature the tagline "A Place to Grow" harkening to Ontario's unofficial 'A Place to Stand, a Place to Grow' anthem first debuted at Expo '67.  Ontario Commercial Plates will feature the slogan 'Open for Business' which reflects the province's renewed commitment to economic growth and job creation across the province.
"Ontario's new passenger and commercial licence plates represent what good government is all about," said Fedeli. "We are putting people back at the centre of every decision; making Ontario a business-friendly and pro-jobs province; and protecting what matters most so we can ensure Ontario is a place to grow: a place to grow your family, a place to grow your business, and a place to grow your community."
The government has delivered a new visual identity directive across the entire public sector that will explicitly prohibit the spending of taxpayer dollars on new logos or other visual identifiers going forward. Since 2011, the ministries and agencies of the Ontario government wasted more than $2 million on visual identity work that only served to fragment the Ontario government's brand and confuse the public.
"We promised to work hard for you and provide you with a better, more people-focused government," said Fedeli. "By making this new brand and visual identity a government-wide standard – we are also saving taxpayers' money by putting a stop to a wasteful practice that we saw taking place across government."
QUICK FACTS
Ontario issues approximately 3.6 million licence plates per year total, including approximately 2.4 million passenger and 580,000 commercial plates.
Modernizing the licence plate and how the plate is produced will save taxpayers millions of dollars each year. In addition to savings associated with the plate itself, significant year-over-year savings will be realized through the planned deployment of new, on-demand manufacturing and delivery technologies that will dramatically reduce the need for inventory warehousing and handling, streamline production, improve the customer experience, and reduce the waste of core inputs such as aluminum.
The province's licence plate was last redesigned in 1982.
Ontario's current plates are beaded and oversized compared to the North American standard for size. The new Ontario plate will use high definition sheeting that is stronger, brighter and longer lasting than the current Ontario licence plate and is proven technology used across other North American jurisdictions.
This new logo will achieve millions of dollars of cost savings across government. Just since 2011, taxpayers have paid over $2 million for the government to dilute its own brand.
---