Ontario Expanding Access to Natural Gas in North Bay
March 11, 2019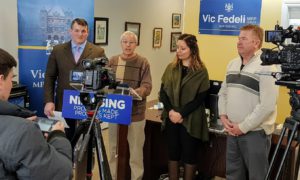 NORTH BAY— Ontario's Government is working for the people to lower heating costs, create jobs and make businesses more competitive by expanding natural gas service in North Bay.
Nipissing MPP Vic Fedeli today announced a $10 million project will proceed that will expand service to the Northshore and Peninsula Road areas.
"For families in Ontario, the savings are significant," said Minister of Infrastructure Monte McNaughton. "Lowering energy costs will help make life more affordable for people who need it."
The North Bay project under the government's Natural Gas Expansion Support Program could expand natural gas service to more than 130 households. Switching from propane, electrical heat or oil to natural gas can also save an average residential customer between $800 and $2,500 a year.
"This is an important announcement for the riding," said MPP Fedeli. "People deserve to have access to affordable natural gas to heat their homes. This will put a bit more money back in their pockets."
ADDITIONAL QUOTES
"The Natural Gas Expansion Support Program will help businesses in rural and Northern Ontario, including First Nations, cut energy costs, improve their competitiveness and attract more investment. It will also help expand the natural gas distribution network to households, making life more affordable for families."
Greg Rickford, Minister of Energy, Northern Development and Mines.
"We are committed to providing the energy that Ontario residents want and need. With this expansion, more North Bay residents will benefit from access to natural gas, the most affordable and reliable energy source for their homes and businesses. We look forward to working with the government to expand access here and in many additional Ontario communities."
Cynthia Hansen, President, Utilities and Power Operations, Enbridge.
QUICK FACTS
North Bay is one of the first to be named as a recipient under the expansion program, which is targeted to begin in summer 2019. The program, which will be facilitated by the Independent Electricity System Operator, is designed to expand natural gas access to more parts of rural and northern Ontario, including First Nations communities.
The $10M Northshore and Peninsula Roads project is being led by Enbridge Gas Inc., Canada's largest natural gas distribution utility, which serves approximately 3.7 million residential and business customers in Ontario.
Additional projects that are ready to move forward may be eligible to receive funding under the new program, subject to regulatory approval from the Ontario Energy Board.
 ADDITIONAL RESOURCES
---