Ontario Supporting Northern Film and Television Industry
February 22, 2019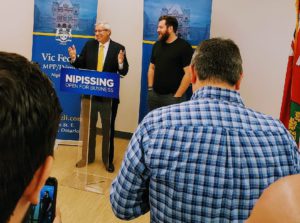 NORTH BAY – Ontario's Government for the People is supporting Northern Ontario's film and television industry by investing more than $1.3 million in infrastructure to support film production in North Bay and two additional film projects centred in North Bay and Sudbury.
Vic Fedeli, MPP for Nipissing, made the announcement today at Canadore College's post-production facility. The investments include:
$1 million for Hideaway Pictures Inc. to produce Pride, Prejudice and Mistletoe and Christmas at Grand Valley
$340,000 for Northern Ontario Film Studios to purchase more mobile film equipment, expanding its fleet to better meet the demands of the growing film sector in the north
"By investing in film and television projects, our government is providing economic and job opportunities for local businesses and communities," said MPP Fedeli. "With these investments, we're building on our reputation as a prime destination in the industry and signalling that Northern Ontario is open for business."
"NOFS is very grateful for the support shown to the film and television industry in Northern Ontario by our provincial government. This is allowing the youth of the region to stay at home and work in a new and exciting growing industry. Being forced to move abroad to pursue my goals in film, support like this has allowed me and many others to move back home, and work in an industry we love," said David Anselmo, Northern Ontario Film Studios.
With almost $3 billion in Ontario production spending in 2016-17, the film and television industry supports over 50,000 jobs in the province.
---