More than $360,000 in Grant Funding For Local Organizations
January 26, 2019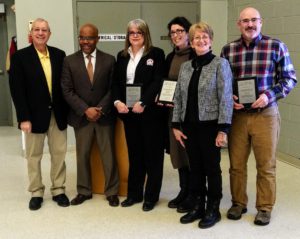 NORTH BAY – Three community organizations are receiving a total of $364,500 in funding through the Ontario Trillium Foundation, Nipissing MPP Vic Fedeli announced today.
Fedeli joined representatives of the organizations at West Ferris Arena to deliver the news.
Grant details are as follows:
$149,300 over six months for the Northern Ontario Hockey Association to deliver improved infrastructure by purchasing rink dividers for 20 minor hockey associations, enabling more teams to play by sharing the ice.
$145,000 over six months for Laurentian Ski Hill to buy new snow-making equipment for a beginners' run, enabling more people to keep active.
$70,200 over six months for the Commanda Museum to replace the historic building's roof and purchase a commercial de-humidifier.
"Whether it's enriching people's lives through arts, culture and heritage, or by fostering more active lifestyles, these initiatives are anticipated to impact the lives of thousands of residents.  My congratulations go out to the successful applicants," said Fedeli.
The Ontario Trillium Foundation is an agency of the Government of Ontario, and one of Canada's leading granting foundations. For more information, visit: www.otf.ca
---