Ontario Supports TV & Film Industry, Creating Jobs in Nipissing
December 21, 2018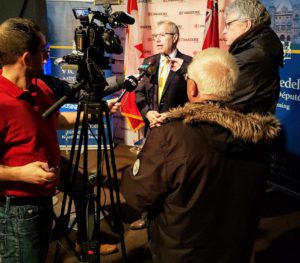 NORTH BAY – Ontario's Government for the People is supporting Nipissing's film and television industry by investing more than $5.6 million in five local productions.
Vic Fedeli, MPP for Nipissing, made the announcement today at Canadore College's post production facility. The investments include:
$3.605 million for Collingwood TV Productions (II) Inc. to produce season two of the television series Carter
$960,000 for Canadore College to produce the television series The Colin Mochrie Show
$500,000 for HP Christmas Jingle Productions Inc. to produce the television movie Christmas in Love
$500,000 for Sleighbell Films Inc. to produce the television movie Sleigh Bell Sweethearts
$65,000 for Good Soldier Films Inc. to produce the feature film Astonishing Tales of Terror
"Our government is diversifying the local economy, creating good paying jobs and supporting the growth of television and film production in North Bay and area," said MPP Fedeli. "We are contributing to the region's reputation as a top production centre in Canada and letting people know that the film and television industry in Nipissing is open for business."
With almost $3 billion in Ontario production spending in 2016–17, the film and television industry supported over 50,000 jobs in the province.
---