Ontario Accelerating Sales of Surplus Government Property in Nipissing
December 7, 2018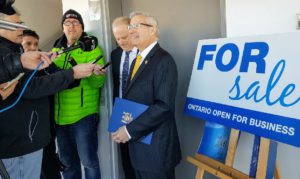 NORTH BAY — Ontario's Government for the People has announced a more efficient process for selling surplus government properties. The improved plan will reduce red tape, create more affordable housing and long-term care spaces and put more money in people's pockets that will benefit Nipissing.
"Today we are announcing the sale of the former OPP building at 590 Chippewa Street in North Bay which will allow us to create much needed revenue and put more money back in people's pockets," said Nipissing MPP Vic Fedeli. "By putting properties back into productive use, our plan will also help Nipissing and local communities across the province see benefits in economic development and jobs."
The government's new streamlined process for selling surplus properties will remove an estimated 150 days of administrative time to dispose of properties, generating an estimated $105 to $135 million in revenue over four years while also saving the government an estimated $9.6 million annually in liabilities and ongoing maintenance costs.
The plan also includes support for some of the province's most vulnerable. The new plan will more easily identify which properties could be used for affordable housing and long-term care projects. Additional government departments and levels of government can also benefit from reduced red tape so that identified properties can be efficiently put back to productive use in communities across Ontario.
"Ontario currently has hundreds of vacant surplus properties across the province, costing the government millions of tax dollars a year to maintain," said Bill Walker, Minister of Government and Consumer Services. "Our plan is about working harder, smarter and more efficiently so we can reduce costs, generate much needed revenue and make life better for the people of Ontario."
QUICK FACTS
Reducing red tape and accelerating sales of surplus government properties will:

Put 243 properties — approximately 14,600 acres — back into productive use over four years
Generate roughly $105 to $135 million in net revenue for government over four years
Save taxpayers' money by reducing liabilities and ongoing maintenance costs on vacant properties
Deliver an annual cost savings and liability reduction of almost $9.6 million
Remove an estimated 150 days of administrative time
---