Ontario Creating Jobs on Nipissing First Nation
November 23, 2018
NORTH BAY – Ontario's Government for the People is investing in the construction of an office complex on Nipissing First Nation to increase business growth and create job opportunities in the community.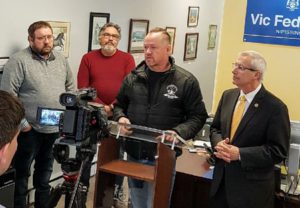 Today, Vic Fedeli, MPP for Nipissing, announced Nipissing First Nation is receiving $1 million to construct a 10,000-square-foot multi-tenant office building in Bineshii Business Park along Highway 17. The high visibility and accessibility along Highway 17 makes the site an attractive location for new tenants. The project will create 10 full-time jobs, and drive local economic growth.
The office building will be divided into two sections. The first will house the Kinoomaadziwin Education Body's (KEB) head office. The second will host a small business incubator providing commercial office space to local entrepreneurs.
"Our government is creating jobs and increasing investment attraction and business growth," said MPP Fedeli. "By supporting the construction of the office complex, we are letting people know that Northern Ontario is open for business."
"Housing the KEB office on Nipissing First Nation provides access to job opportunities for our community members, while the small business centre will create new opportunities for our entrepreneurs," said Nipissing Chief Scott McLeod.  "We will continue to nurture job creation and business development in our community with the investment in this new facility."
---