Fedeli Celebrates Small Business Saturday
October 20, 2018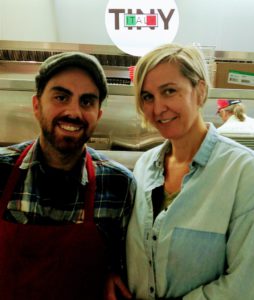 CALLANDER –  Nipissing MPP and Minister of Finance Vic Fedeli took time today to mark Small Business Saturday, one of many events celebrating Small Business Week.
"Our number one priority is ensuring Ontario is open for business," Fedeli said while visiting Tiny Italy and owners Filippo Surano and Dorothy Csupano in Callander.
"We are committed to creating the conditions that make it easier to start and grow a business, or invest in Ontario, including cutting red tape and regulatory burdens."
Fedeli noted he's heard from businesses across the province, including at a local red tape roundtable last week with Minister of Economic Development, Job Creation and Trade Jim Wilson, and knows they need real relief.
"This is just one part of our consultations with businesses."
Over the past 15 years, the previous government brought in many new burdens or regulations that imposed significant unnecessary costs on businesses and stifled economic growth.
The number of regulatory requirements in Ontario has grown to 380,000 – an incredible number when compared with British Columbia, which has just over 200,000 regulations, Fedeli added.
---