Ontario Expanding Hospice Care in North Bay
August 17, 2018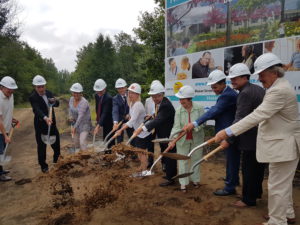 Ontario's Government for the People is investing $1.5 million to help build a new palliative care facility that will provide quality end-of-life care to patients across the Nipissing region.
"Once built, the Nipissing Serenity Hospice will be a home away from home, helping those who need it most — those who are facing the most difficult path of end-of-life care," said Vic Fedeli, Nipissing MPP. "It will be a peaceful, caring and supportive environment where our friends, family and neighbours can receive the dignity, compassion and quality of care they deserve in their final days."
The funding, which was provided through the Northern Ontario Heritage Fund Corporation, will help build a ten-bed residential hospice to provide palliative care for terminally ill patients in the Nipissing and Parry Sound districts. The facility will also play a role in filling the gap in continued end-of-life care in these districts.
The hospice will create 21 jobs, 14 full-time and seven part-time.
"Expanding access to compassionate palliative care is part of our priority to make life easier and more affordable for Ontarians," said Greg Rickford, Minister of Energy, Northern Development and Mines. "This investment will ensure northerners who need end-of-life care can receive the support they and their loved ones need."
---