Government Keeps Promises!
August 16, 2018
Queen's Park –  Today, Ontario Government House Header, Minister Todd Smith recapped the government's promises kept since coming to office. Focusing on the top 20 achievements, these historic changes will save families money, make life more affordable and bring accountability back to government.
"During the election, we presented our Plan for the People. Citizens across Ontario including here in Nipissing supported our plan and sent us to Queen's Park with a strong mandate", said Nipissing MPP Vic Fedeli.
"Since July, we have delivered key initiatives that will help lower gas prices and reduce your hydro bills, restore accountability and trust in government, and send a message to the world that Ontario is open for business," said Smith.
The government under the leadership of Premier Doug Ford has been busy passing legislation and taking action on many files to improve life for Ontarians, including:
Passing the Urgent Priorities Act, including immediate action to protect students by ending the York University Strike, bring unprecedented transparency and accountability to Hydro One, and cancel an industrial wind turbine project in Prince Edward County that had been improperly approved during the general election.
Passing the Better Local Government Act, which will reduce the size and cost of Toronto's city council — saving local taxpayers $25 million dollars that can be invested in other priorities. The Act will also prevent gridlock in Peel, York, Muskoka and Niagara by removing yet another layer of elected politicians.
Introducing the Cap and Trade Cancellation Act that, if passed, will save the average Ontario family $260 and bring gas prices down by 4.3 cents per litre.
Overseeing the renewal of Hydro One including the departure of the previous CEO and Board of Directors and instalment of a new Board, backed up by real accountability and transparency measures.
Dedicating an additional $100 million to fight forest fires across Ontario
Introducing a responsible plan for Ontario following the legalization of cannabis that will focus on protecting youth, eliminating the illegal market, and embracing a well-regulated private market.
Challenging the constitutionality of the federal government's plan to impose a carbon tax on Ontario families, workers and businesses and joining Saskatchewan's similar challenge of the federal government's job-killing carbon tax.
Forging a pan-Canadian consensus on the issue of costs associated with illegal border crossings. Every province and territory agreed that it is the federal government's responsibility to pay for the mess that it has created from its own border policy decisions.
Taking immediate action to clean up the scandals, mismanagement and waste inherited from the previous government by striking an Independent Financial Commission of Inquiry under the leadership of former British Columbia Premier Gordon Campbell.  We also launched an outside line-by-line audit of all government spending in order to get Ontario's finances back on track.
Consistently advocating for Ontario jobs, Ontario workers and Ontario businesses threatened by the current trade dispute with the U.S., including direct diplomacy from both the Premier and Jim Wilson, Minister of Economic Development, Job Creation and Trade, south of the border.
Taking urgent and long-overdue action to reform Ontario's Social Assistance system so that its focus can once again return to helping people get back to work and get their lives back on track.
Cancelling all pre-construction Green Energy Projects as part of the government's commitment to bringing hydro bills down by 12 per cent.
Announcing the reform of OHIP+ to make it more sustainable by focusing benefits on those who do not have existing prescription drug benefits, while continuing to guarantee that every child and youth still receives the prescription drugs they need.
Leading the fight against gang and gun violence with a $25 million investment that will be directed to the priorities that have been identified by the police themselves.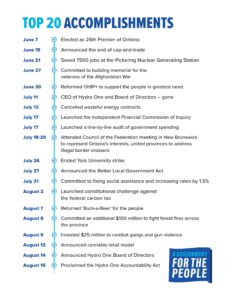 ---