Fedeli Announces Trillium Grant
April 20, 2018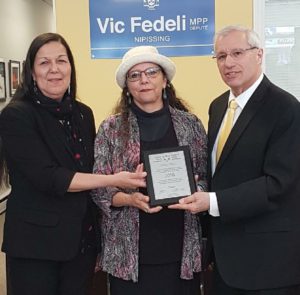 NORTH BAY –  The North Bay Indigenous Friendship Centre is benefitting from a $43,900 grant from the Ontario Trillium Foundation (OTF), Nipissing MPP Vic Fedeli said today.
The funding over five months is designed to deliver improved infrastructure through needed repairs to the building's foundation.
The money will also allocated towards mould removal and the purchase of an HVAC system.
The centre impacts the lives of nearly 600 people in the community, and this initiative will help connect those who may be isolated in the community.
"For many years, the Centre has played a vital role in our community and provides such valuable support.  It's a pleasure to be able to announce this assistance for them today," said Fedeli.
---