Local Women Earn Provincial Honours
March 23, 2018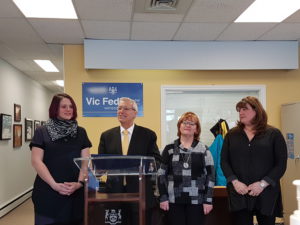 NORTH BAY – Three local women are receiving 2018 provincial Leading Women awards, Nipissing MPP Vic Fedeli announced today.
Katharine Strang, Nancy Birtch and Nathalie Rainville-Fournier were nominated by members of the community earlier this year, and were presented with the honours in a ceremony at Fedeli's North Bay constituency office.
Strang and her husband John operate a local taxi company. She was recognized for her tireless work as Chair of the North Bay Food Bank, and volunteer efforts for Summer in the Park, Dreamcoat Theatre and the student advisory council at West Ferris Secondary School.
Birtch, a local partner at KPMG, was cited for her volunteer work with a number of local organizations, including the Kiwanis Club, Canadore College, North Bay Regional Health Centre, and Packsac Smiles Organization, among others.
Rainville-Fournier is a dedicated health care professional who has led a community weight loss support group, and has volunteered her service to community groups including the Ecole Publique Heritage and le conseil publique du Nord-Est de l'Ontario, and le centre Les Compagnons.
Rainville-Fournier est une femme professionnelle devoué qui as commence un programme de santé pour un group d'individuel avec des troubles de poids et, ell a aussi donné de sont des heures de service bénévolantes a sa communité tel que, l'Ecole Publique Heritage and le conseil publique du Nord-Est de l'Ontario, ainsi que le Centre Des Compagnons.
"It's truly wonderful to see the leadership and community contributions of these strong women being recognized provincially. They serve as inspirations to all of us here in Nipissing," said Fedeli.
---