Fedeli Announces Funding for Brain Injury Support Group
December 20, 2017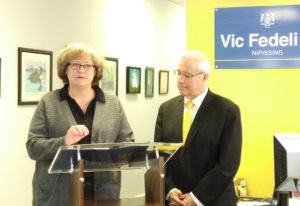 NORTH BAY –  Nipissing MPP Vic Fedeli has announced a nearly $250,000 Ontario Trillium Foundation Grant for the Brain Injury Association of North Bay and Area (BIANBA).
The $248,600 grant spans 36 months and will help the organization introduce the Transitional Support Initiative to the community, helping people with cognitive impairments obtain appropriate incomes.
It`s estimated this program designed to help people who are economically vulnerable be able to meet their basic needs, will impact 75 people in the community.
BIANBA`s mission is to enhance the lives of individuals and families in North Bay and Area who are living with the effects of acquired brain injury through education, awareness and support.
"The Brain Injury Association of North Bay and Area  is very excited about being awarded this Grow Grant from the Ontario Trillium Foundation. These funds will be used over the next three years to implement a proven success model that was first introduced in the Durham Region in 2009, and was rolled out in Peterborough in 2016. The Transitional Support Initiative aims to reduce the level of poverty experienced by people with cognitive disabilities, by assisting them in transitioning to the most appropriate income available. In most cases this will involve moving individuals from Ontario Works benefits to Ontario Disability Support Program benefits," said President Tracey Poole.
As a registered charity with a volunteer board, BIANBA receives no LHIN funding but rather is fully reliant on donations, fundraising activities, and proceeds from memberships.
"I offer my congratulations to you and wish you success in assisting those in our community affected by brain injury find appropriate economic opportunities for them and their families," said Fedeli.
---