Funding Boost for Active Waterfront Living in Bonfield
July 27, 2017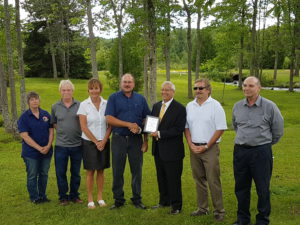 BONFIELD – $70,000 has been awarded to the Municipality of Bonfield to help develop an active waterfront living plan through the Ontario Trillium Foundation, Nipissing MPP Vic Fedeli announced today.
"Nipissing provides unique four-season recreational opportunities to its residents, and our waterfront spaces play a huge role in maximizing those opportunities.  This funding is aimed at enhancing the quality of life here in Bonfield. I look forward to seeing the positive impact these funds will have in the community," said Fedeli.
The money will be provided over 11 months and will help outline new physical fitness opportunities for more than 2,100 residents.
"The municipality is very appreciative to receive this funding.  It will allow us to professionally study the potential to develop and enhance our local waterfront area.  The plan once finalized will allow improvements to occur over the coming decades in a organized way," said Bonfield Mayor Randy McLaren
---