Fedeli Announces Funding for Corbeil Four Seasons Club
December 5, 2016
NORTH BAY – Corbeil Four Seasons Club has been awarded $54,300 from the Ontario Trillium Foundation (OTF) to help with the much needed facility upgrades and renovations, Nipissing MPP Vic Fedeli announced on Saturday evening.
The OTF grant was used to help replace the Club's aging heating and air conditioning system with a more energy efficient one.  Funds were also used to help with upgrades to the electrical system, installing a new kitchen ventilation hood and, finally, to help with new cooking appliances for the Club.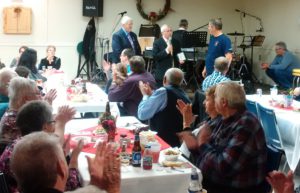 "The Corbeil Four Seasons Club is vital to our community. These renovations will ensure the Club continues to provide tremendous recreational opportunities for residents in Corbeil and surrounding communities for many years to come," said Fedeli.
"My congratulations go out to those individuals whose hard work made this important project a reality," Fedeli concluded.
---