NEW FEDELI BOOK REVEALS NEXT ENERGY SCANDAL
May 19, 2016
QUEEN'S PARK – The Wynne Government could have gotten itself out of the multi-billion dollar Green Energy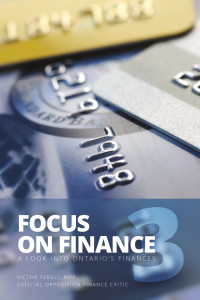 Investment Agreement, more commonly known as the Samsung deal, for no cost, Nipissing MPP Vic Fedeli revealed today.
The revelation comes from newly uncovered documents from the Gas Plant Scandal and is detailed in Fedeli's latest book, Focus on Finance 3.
"The government would like you to believe that there's nothing it can do – or could have done – to mitigate skyrocketing hydro costs in Ontario.  That's simply not true," said Fedeli.
A Treasury Board/Management Board of Cabinet Note dated March 26, 2013 noted the Korean Consortium missed "multiple milestone deadlines for Phase 2 and 3 construction projects," and "this triggers the province's ability to terminate the GEIA, without penalty, through existing termination clauses."  It further states that the savings to Ontario ratepayers if the foregone capacity was not reallocated would be about $30 a year on the average residential electricity bill, or two per cent.
The Energy Minister later claimed savings of $3.7 billion by renegotiating the deal, yet the Ministry's own document states savings by foregoing final phases of the deal would have been $5.2 billion, Fedeli noted.
"That means the government left NO LESS THAN $1.5 billion on the table that could have helped reduce hydro costs in this province," continued Fedeli.  "That is another Gas Plant-sized scandal!"
"Given that Ontario has been producing surplus power and exporting it at losses in the billions of dollars in the past several years, the government missed a clear opportunity to save ratepayers considerable money," added Fedeli.
"This government has no shame when it comes to scandals in the energy sector," added Leader of the Official Opposition Patrick Brown.  "We've seen time and time again that government mismanagement has meant that we have the highest industrial electricity rates in North America, and our electricity rates are increasing faster than any other state or province.  This Government seems intent on making life more unaffordable for Ontario businesses and families."
VIDEO : https://youtu.be/IaA1Oys5Iwk
BOOK : http://fedeli.com/wp-content/uploads/2016/05/Focus-On-Finance-3.pdf
READ: Confidential GEIA Documents
---