CARBON MONOXIDE ALARMS DONATED
November 20, 2015
NORTH BAY – Nipissing MPP Vic Fedeli joined representatives of the Insurance Bureau of Canada (IBC) at Fire Station 1 today to present 150 carbon monoxide (CO) alarms to North Bay Fire and Emergency Services for distribution in the community.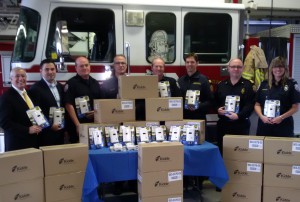 "I want to thank IBC for their donation to help keep families in our community safe from the dangers of carbon monoxide," said Fedeli, who noted IBC has donated more than 5,500 CO detectors in more than 50 communities across Ontario so far.
With winter approaching, Fedeli says now is a good time to take steps to protect yourself and your family from carbon monoxide poisoning, including:
checking to make sure vents, exhausts and chimneys are clear;
having fuel-burning appliances serviced regularly; and
checking your carbon monoxide detector whenever the time changes to ensure it is working.
In 2013, the Ontario Legislature passed the Hawkins Gignac Act, a private members bill introduced by PC MPP Ernie Hardeman, requiring carbon monoxide detectors in Ontario homes and establishing Carbon Monoxide Awareness Week beginning November 1st each year. The Bill was named after a Woodstock family of four with ties to North Bay that tragically lost their lives after a blocked fireplace exhaust filled the house with carbon monoxide.
Soon after in 2009, while serving as Mayor of North Bay, Fedeli joined Council to pass a bylaw making it mandatory for all homes in the City that have a fuel-fired appliance to install a carbon monoxide detector.
"Carbon monoxide is so dangerous because you can't see it, taste it or smell it. A CO detector is the only way to ensure you are protected," said Fedeli.
---