FEDELI AND VISITING MPPs DISCUSS COMBATTING HUMAN TRAFFICKING
June 16, 2016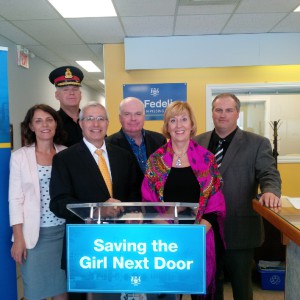 NORTH BAY – Human trafficking is a growing and significant issue that requires urgent action, Nipissing MPP Vic Fedeli stated today.
Fedeli hosted a discussion on measures to combat human trafficking, including the importance of Bill 158, Saving the Girl Next Door Act.
He was joined by Caucus colleagues MPP Laurie Scott (Haliburton-Kawartha Lakes Brock) and MPP Jim Wilson (Simcoe-Grey), as well as Police Chief Shawn Devine and Constable Aaron Northrup from the North Bay Police Service and Glenna Byers from North Bay Victim Crisis Assistance and Referral Services.
"Communities across Ontario, including here in Nipissing, are expressing concern about human trafficking, a heinous crime that has been referred to as modern day slavery," said Fedeli. "The Townships of Calvin, Chisholm, and Bonfield have all recently passed resolutions regarding this concern and supporting Saving the Girl Next Door Act," added Fedeli.
Saving the Girl Next Door Act was introduced by MPP Laurie Scott and would allow for the enforcement of protection orders on behalf of victims against traffickers. The bill also allows victims to seek compensation and to include trafficking as a sexual offence under the age of 18.
"Ontario is far behind other provinces when it comes to combatting human trafficking and taking significant action," said Scott.
"This bill is meant to signal the start of a long line of discussion, consultation, collaboration and legislation needed to combat modern day slavery in Ontario. We need to save the girl next door," concluded Scott.
---